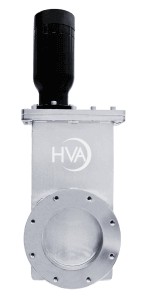 Description
The 21200 Series Million Cycle Gate Valves are designed for high vacuum applications specifically when pressure ranges approximate 1 x 10-9 mbar and bakeout temperatures do not exceed 150°C. There are no mechanical locks inside vacuum, which is extremely beneficial for semiconductor and sensitive processes requiring vibration-free operation. All moving joints have hardened shafts, reducing particulate generation and providing smoother actuation. These valves provide valving for cryopumps, turbo pumps, ion pumps and other applications requiring clean, high cycle, low outgassing valves.
Standard Technical Specifications
Materials
Valve body and gate: 304 stainless steel
Welded bellows shaft seal: AM-350
Driveshaft and pins: Hardened stainless steel
Bonnet/gate seals: Viton® elastomer
Bakeout Temperature
without solenoid
Elastomer sealed bonnet: 150°C
Actuator: 60°C
Cycles Until Service
1,000,000 cycles
dependent on process
Vacuum
Pressure Range: 1×10-9 mbar
Helium leak rate: <2×10-9 mbar l/s
Differential pressure closed: 1 bar in either direction
Maximum Δ pressure before opening: ≤30 mbar
Mechanism
Manual: hand crank
Pneumatic air service: 80 psig
Solenoid: 4.0 Watts
- supplied voltage: 120V AC, 50/60 Hz
- optional voltages: 24, 200, 240 VAC, 50/60 Hz or 12, 24V DC
Position indicator, max: 115 VAC or 28 VDC, 20 mA
Use the table below to obtain 2D drawings (PDF) and 3D drawings (STP), or to request a quote.
If you need help finding a model number use the following link: 21200 Series Model Key Guide
Pneumatic with Elastomer Bonnet and Gate O-Rings (includes reed switch position indicators)
Flange Types
0 = CF-F Port with UNF Thread (21212-0400R)
3 = KF/ISO-F Bolted (21212-0403R)
4 = CF-F Port with Metric Thread (21212-0404R)
6 = ISO-K Clamped (21212-0406R)
Options
Custom flanges
UHV version with copper bonnet
Alternate o-ring material
Alternate solenoid voltages
Microswitches for position indicators
Roughing ports
Motor operator
High temperature components including o-rings, microswitches and actuator.
Larger Sizes