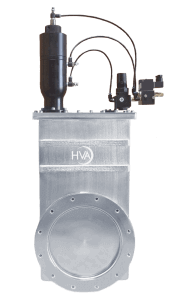 Description
The 3-Position Gate Valves are designed for use in etching, CVD and any other process that requires pressure control. When used in conjunction with upstream mass flow controllers, this series valve will contribute to an exceptional pressure control capability. These valves may also be utilized to smooth the transition from rough to high vacuum. The valves employ two pneumatic solenoids and an air pressure regulator to achieve the three positions of fully open, fully closed, and an adjustable third position. One solenoid controls the fully open and fully closed positions while a second solenoid controls the third position.
Standard Technical Specifications
Materials
Valve body and gate: 304 stainless steel
Welded bellows shaft seal: AM-350
Drive shaft and pin: Hardened stainless steel
Vacuum
Pressure Range: 1×10-9 mbar
Helium leak rate: <2×10-9 mbar l/s
Differential pressure closed: 1 bar in either direction
Maximum Δ pressure before opening: < 30 mbar
Mechanism
Pneumatic air service: 80 psig
Solenoid: 4.0 Watts
- supplied voltage: 120V AC, 50/60 Hz
- optional voltages: 24, 200, 240 VAC, 50/60 Hz
Position indicator, max
- Reed switch for open & closed: 115 VAC or 28 VDC, 20 mA
- Microswitch for third position: 115 VAC, 5 A
- optional voltages: 250 VA, 5 A or 28 VDC, 5 A resistive load 28 VDC, 3 A inductive load
Cycles
1,000,000 cycles
Cycles until service: dependent on process
Bonnet/gate seals
HV: Viton® elastomer
Helium leak rate: <2×10-9 mbar l/s
Differential pressure closed: 1 bar
Temperature
Body: 150°C
Actuator: 60°C
Use the table below to obtain 2D drawings (PDF) and 3D drawings (STP), or to request a quote.
If you need help finding a model number use the following link: 21700 Series Model Key Guide
3-Position (includes elastomer seals with 120V AC solenoid and position indicators)
Flange Types
0 = CF-F Port with UNF Thread (21712-0400R)
3 = KF/ISO-F Bolted (21712-0403R)
4 = CF-F Port with Metric Thread (21712-0404R)
6 = ISO-K Clamped (21712-0406R)
Options
JIS, ASA and Custom flanges
Alternate o-ring material
Alternate solenoid voltages
UHV copper bonnet version
Roughing ports